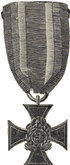 Gov. Crapo Camp No. 145
Department of Michigan
Sons of Union Veterans of the Civil War
Richard Greene, PCC
Camp Commander - 1996, 2004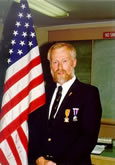 The Brothers of Gov. Crapo Camp No. 145 elected Richard Greene of Mayville, Commander on 19 November 1995. A Charter Member of the Camp, Brother Greene was installed as Commander on 16 January 1996. Brother Greene was the Camp's third Commander.
Brother Greene is immensely proud of the service of two of his great grandfathers who took up arms to preserve the Union:

1. Corporal William Cyrus Hall served three distinct enlistments, one each with the 12th Indiana Infantry, 55th Indiana Infantry (1st), and 136th Illinois Infantry.

2. Private George F. Heusted first enlisted in the 10th Michigan Infantry when barely 12 years old. After a short time he was returned to the custody of his step father because of his youth. Less than a year later he left home again, this time giving his age as 21 and his name as James Gurney. He joined the 9th Michigan Cavalry and served in the Georgia and Carolina campaigns with General Sherman.
Brother Greene has served the Order at all three levels; Camp, Department, and National. He is currently the Patriotic Instructor of the Gov. Crapo Camp and is an elected member of the Department Council for the Department of Michigan. An Information Services Administrator, he lives with his wife Karen and daughter Meagan on the farm adjacent to that once owned by his great grandfather, George Heusted.